BIUWER wins Startup Olé 2022 final in its category
September 8, 2022
- Posted by
Mª Carmen Cortés
-
3 min
BIUWER is a data analytics platform that connects and synchronizes all the data generated by a company in a single platform, in a fast, secure and easy to use way. We have reached the final of Startup Olé, after winning in the category of Logistic/Retail - Infrastructure/PropTech. BIUWER was the only representative of the Region of Murcia (Spain) to present its project in the pitch competition of Startup Olé in Salamanca.
The eighth edition of the international benchmark entrepreneurship fair took place from September 5th to 7th in Salamanca. It brought together more than 800 speakers and 165 startups.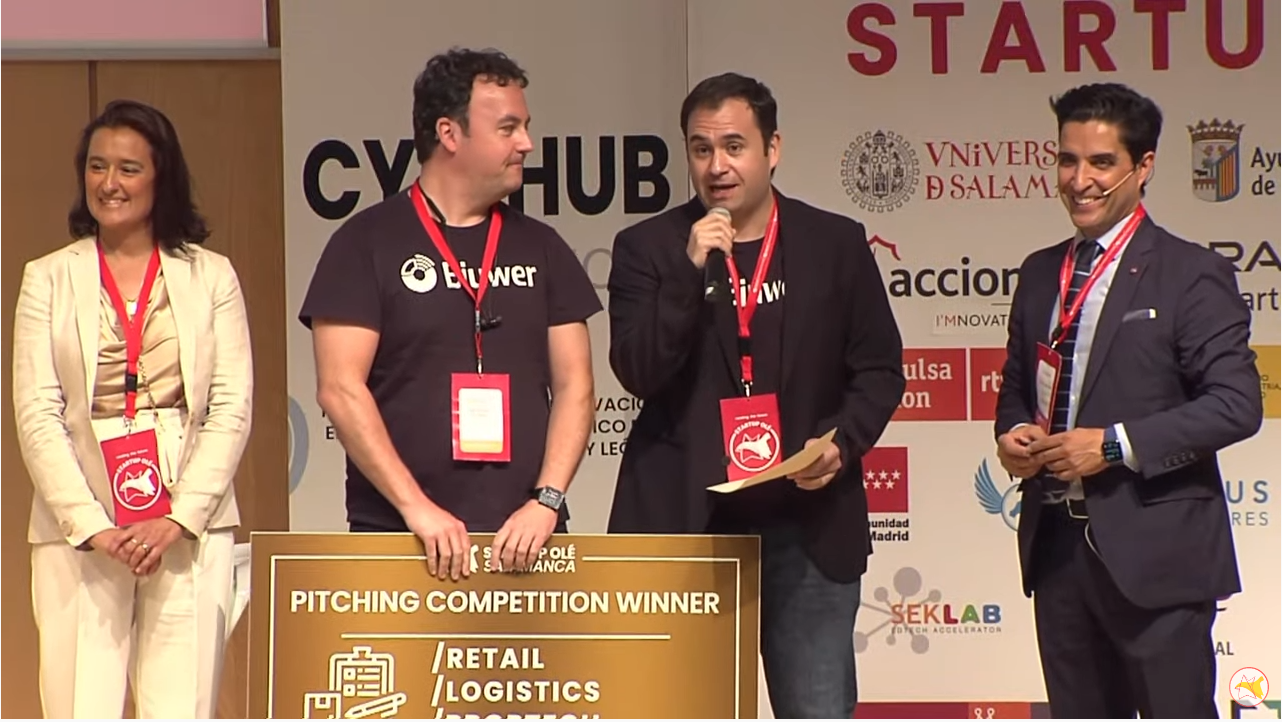 Alberto Morales, CEO of BIUWER presented during the first day of the event the data analysis platform. The pitch lasted a few minutes but it was enough for us to qualify for the final along with 9 other companies.
With less than a year of life we already have more than 20 customers and we have a turnover forecast of 200,000 euros for 2023. The Business Intelligence platform allows small and medium-sized companies to unify and cross multiple data sources so that they can make decisions based on data and not on intuition, reducing the implementation process to minutes, instead of days or weeks. BIUWER is intuitive to use, with no technical knowledge required.
How was the idea of creating BIUWER born?
BIUWER was born from the problems that companies have when analyzing all the data, since they have more than 8 different tools and spend about 40 hours per month to extract the results of each one of them.
The Data Analytics platform, besides being very easy to use since it does not require technical knowledge, has an automatic system that with a few clicks allows you to analyze all the data dumped on the platform.
The software solves multiple use cases, so it can be adapted to any type of company, but we focus on three profiles: online stores that need to know the status of their key indicators, SMES seeking to analyze marketing data and startups with software applications that offer different solutions to their customers and in turn, need to create dashboards to obtain results and generate reports.
Benefits
The tool has among its strengths templates for the construction of dashboards (graphs, comparative indicators, maps, etc.), which can have a dynamic behavior and content for each user. It also has highly demanded integrations such as: Google Ads, Facebook Ads, WooCommerce, Prestashop, Holded, Navision, HubSpot, etc.
"We provide dynamic and robust software that is adaptable to the pace at which each company is getting into its intelligent business strategy so that it can make the most of the data it generates and be more productive. We talk about agility, but also about its security and governance", Alberto Morales, CEO and co-founder of BIUWER.
Another advantage of BIUWER is that it allows the management of all connections, datasets and data models from a single place. As it is deployed in the cloud, it is accessible from any browser 24 hours a day. In addition, visualizations can be shared in other external applications and exported in CSV, Excel or PDF formats, and the connection to data sources is secure and flexible.
Now more than ever, it is necessary to have tools that help you make data-driven decisions.
The platform has an intelligent alert system that notifies the user when an indicator meets a target or, on the contrary, if it is not the desired value.
In short, BIUWER makes it easier for companies to get quick answers so they can make decisions in real time.
After this step by Startup Olé, we hope to gain visibility and to be able to reach potential customers with our platform. This event has given us the opportunity to meet other startup finalists and has facilitated the possibilities of collaboration. We have also opened the first round of investment of the company, so Startup Olé has helped us to make quality networking with investors and perhaps reach an agreement.