Welcome, Biuwer! The data analytics platform made in Spain
February 28, 2020
- Posted by
José Miguel Morales
-
6 min
We are delighted to begin our blog journey giving a public welcome to Biuwer,** the cloud data analytics platform** we have been working on for several years together with a selection of clients who trust us.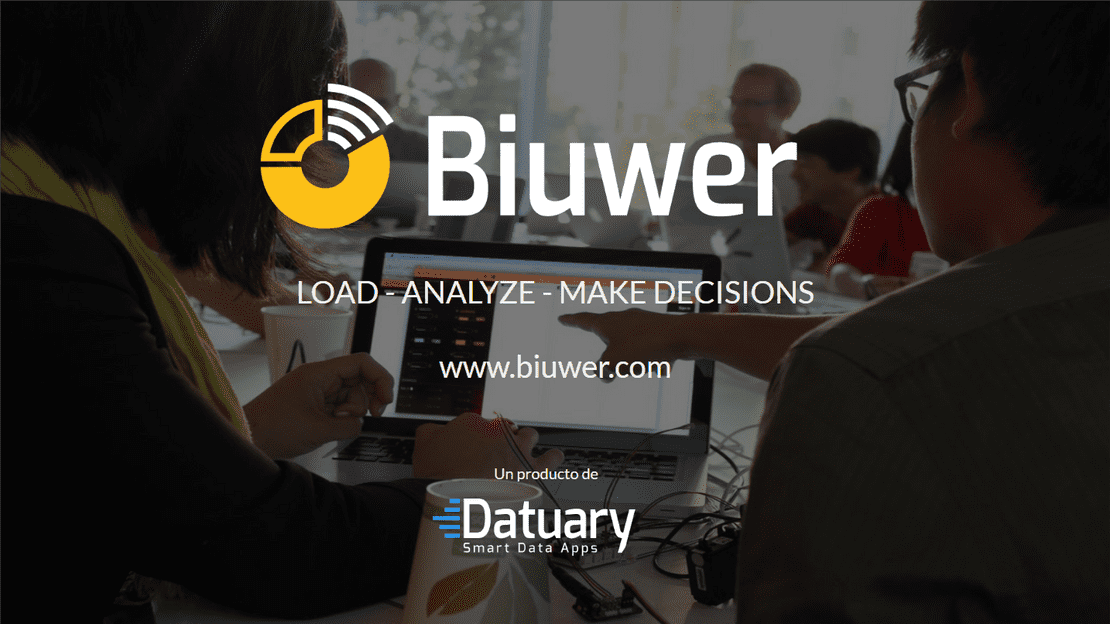 A little bit of history
The founding team of **Datuary **, Alberto Morales and José Miguel Morales, took the leap in 2014 from working in large technology consultancy firms to creating their own company specializing in the development of data analytics platforms. Our goal has always been to democratize this kind of platforms and to allow SMEs to use them to improve their results and make clever decisions based on data.
Our experience implementing Business Intelligence solutions began in 2007, working with all types of clients, mainly large companies with high budgets, which could afford to spend hundreds of thousands of euros a year on such projects.
This experience gained in all phases of the data lifecycle, including data collection, processing, storage and visualization, made us realize that the approach to democratize Business Intelligence and Data Analytics platforms was to create a cloud data platform with much more affordable costs for most companies in the world.
Creating a product with clients
The best decision we made was to create Biuwer step by step, with a solid and robust foundation, working with local clients who have trusted and rely on us and to whom we owe the evolution, functionalities and the approach that the product has acquired over time.
Biuwer was born in 2016 as a cloud product from the first minute, with real users who had real needs. This has allowed us to validate the software's approach, develop the most demanded functionalities and expand the client portfolio naturally.
In mid-2018, we published the first stable version of Biuwer as a SaaS product, with reduced availability for few clients.
Business Features
The approach we have applied in building and evolving Biuwer has been to use our business knowledge and the real needs of our clients. This has made Biuwer a data visualization and analytics platform that can respond to a variety of needs, with a set of functionalities typically offered in very expensive business intelligence tools, but naturally available to SMEs for a tenth of the price, for example:
Teamwork with data, using Shared Spaces, configurable to be accessed by different users and with different levels of permissions. You can serve data to hundreds of users for a fraction of the cost of traditional BI tools.
Powerful data filtering system, which allows to ask questions to the data in an individualized way for each user. This is one of the key features of Biuwer, an advanced set of filters for interactive data analysis.
Row-level data security (Data Policies). So you build a Dashboard once and then you give each user or group of users access to the data they can view.
Powerful data file importer, because today it's very common to analyze data sets that are stored in files (typically CSV or Excel).
System for embedding reports and dashboards externally to Biuwer. This functionality is known as "Embedding" (shared publicly or privately) and allows you to use your data securely in third party applications, as if you were using Biuwer directly.
Why create a new product?
We know in detail the tools that are direct competitors of Biuwer because we have used them and have suffered them for years. Perhaps the best known to the general public are Qlik Sense, Tableau or Power BI, but there are many other tools available today in a growing market that increasingly demands these solutions.
Our approach with Biuwer has been to create a platform that is both powerful and easy to use, intended primarily for the non-technical user. In other words, you don't need to know coding or be an expert in the SQL language to use Biuwer. All you need to know is how your data is structured and what questions you want to answer.
Our pricing policy is not intended to break the rules of the market. We believe that prices should be consistent and adjusted for each company profile.
This is why we provide companies with a powerful tool that will grow with them, with affordable prices with no traps, first class functionalities and performance, and an extensive product roadmap for this and the next years.
Why do we recommend using Biuwer as a data analytics platform?
We are not going to make a complete comparison of features here. We know that in some cases, tools are chosen just for having one type of chart, comparing to other products or simply because they can share information in a certain channel.
Our ambition is to have all the key functionalities available in any tool available in the market, but our current bet is not going to compete with any product neither in price nor in a specific functionality.
Here you can download a slideshow with more details of the product.
We think these are some of the reasons you might be interested in Biuwer:
Custom Support and Free Quick Start Package
Our team of data engineers will be there to help you with your data and make the most of them for any plan you choose, wherever you are, as if we were working with your data in the same place.
In addition, as it reflects our commitment to create long term relationships with clients, we offer a free Quick Start Package for every new account created in the annual Professional plan.
Features not available in other tools
Besides the personalized support, your opinion about the functionalities and the evolution of the product has a lot of importance. We take our clients' feedback and recommendations very seriously and include them in our development roadmap to implement the features you need so much.
Data engineering services from the creators themselves
Our experience tells us that daily work at companies makes it difficult for many people to have enough time to prepare data, create reports or dashboards, configure alerts or conditional formats, etc. There are many companies that need help and a team of data engineers that offer them a personalized service. In the case of Biuwer, in addition to offering you the product, we also offer you customised data engineering services.
We are also working on a network of technology partners with whom we can carry out data implementations with Biuwer. If you already work with a local BI consulting company, you can contact them to propose using Biuwer.
If you wish to become a Biuwer partner, please contact us.
Expandable and customizable platform
During years of service with real clients we have created a system of custom cards that allow us to extend the features of Biuwer for each client. In other words, you can create integrations with external applications, charts, reports, KPIs, maps, custom forms, etc.
Open to the public
Since mid-2018, Biuwer is a Saas product used by clients in a closed way. We have tackled together with them the configuration, the building of reports and business dashboards, to help them make intelligent decisions based on automatically updated data. Since then, we have worked on many features. Here you can check our product updates.
Now in 2020 it's time to publicly open Biuwer, so that companies anywhere in the world can use it to improve their companies and achieve their business goals.
We are working to enable you to sign up with Biuwer in the coming weeks. You will have a 30-day trial period during which we hope to be able to help you with your data analytics needs.