Sharing data at scale with Embedded Analytics
June 17, 2021
- Posted by
José Miguel Morales
-
6 min
In this article we want to explain some use cases that are becoming increasingly important in companies that need to share data with a growing number of people, through the so-called Embedded Analytics.
At Biuwer we have a few years of experience in this sector of data analysis and we constantly come across different use cases. Every company is literally a world per se and has its own specific needs, with sometimes technical limitations, or sometimes organizational limitations, but with specific objectives in each case. In this sense, this article does not intend to include all possible use cases, but rather to explain the main options and general approaches, which can then be individualized for each specific case.
The use cases that are exposed below are considered taking into account the characteristics of a Data Analytics platform such as Biuwer.
Internal usage
The most common thing when a company considers using data analytics tools is to think that they will be used exclusively by people belonging to the company, that is, internally. The people who can collaborate with data are usually: the management team, the different departments or any employee who needs correct and updated data daily to do their work.
This use case can be represented graphically with the following diagram, in which three colors have been used to understand the data flows from source to destination.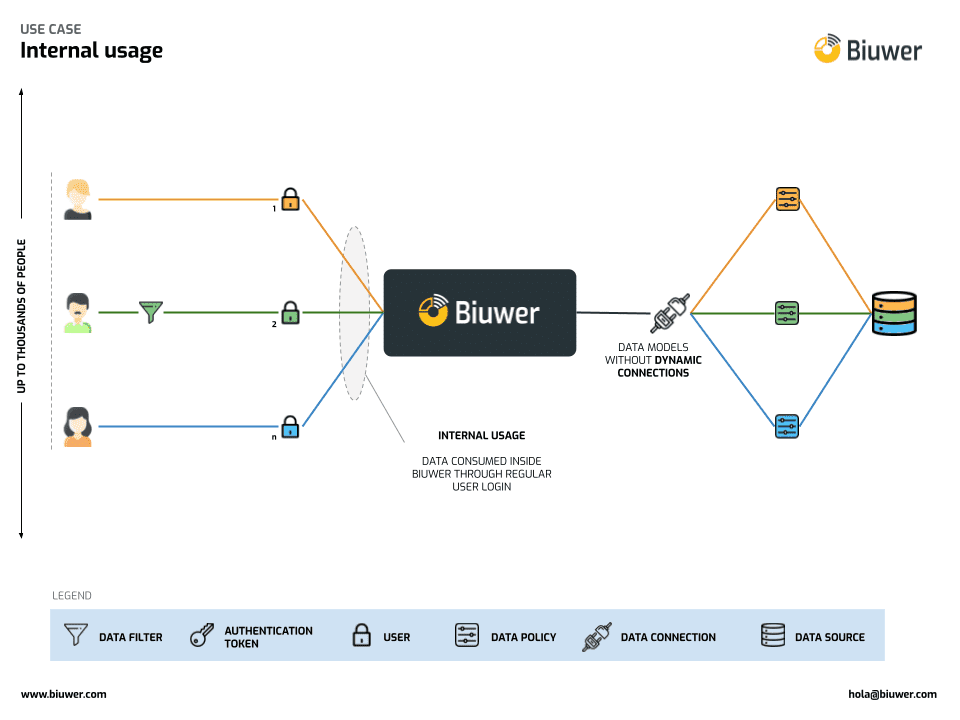 Each element has been simplified in order to understand the functionality:
It is intended to share data stored in one or more data sources (icon on the far right) with up to thousands of people (icons on the far left).
Biuwer is located in the center and performs all the necessary management and configuration.
To the right of Biuwer, it makes the selection of the necessary data connections in each case and applies, if configured, the Data Policies, which include data filtering depending on the user who performs the query. This allows you to customize the behavior of a report or a dashboard, to show each person the appropriate data, conveniently filtered.
On the left, the padlock icon symbolizes each of the users that can be used by different people, each of whom can use data filters at different levels and of different types to carry out business inquiries interactively.
Advanced internal usage
Still continuing with an internal data platform use case, this next diagram shows more diverse usage possibilities. Now pay even more attention to the three colors as three possible uses are shown.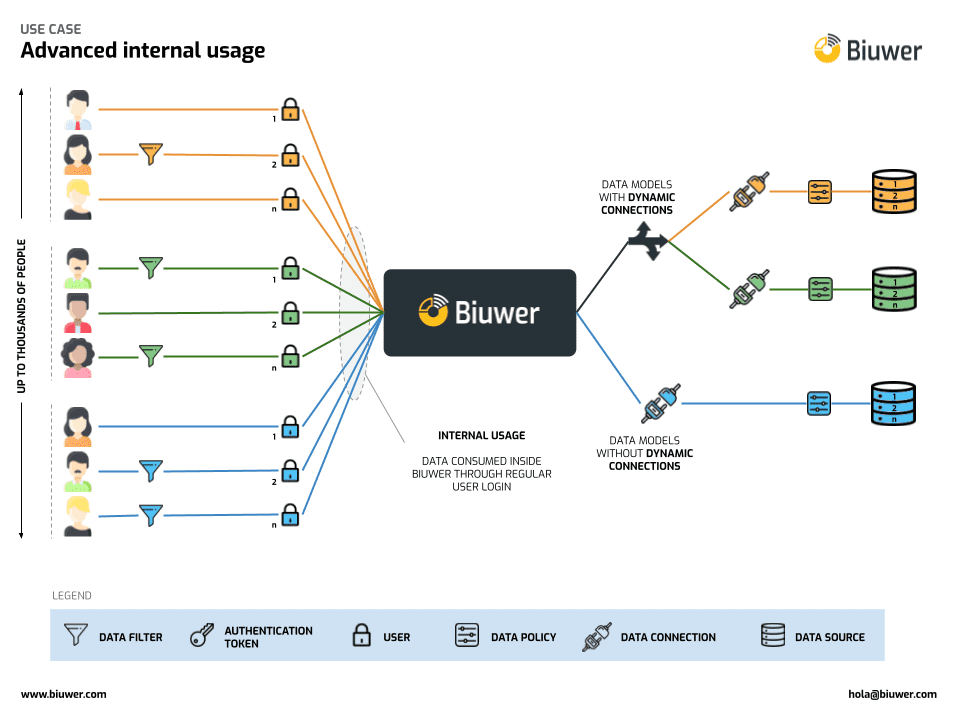 Biuwer includes in the Data Center an important element called the Data Model, which defines data analysis contexts. Data models can be configured to use data connections dynamically.
Dynamic selection of data connections allows you to direct each person to a different data source. This can be very useful or even necessary for companies that have installed the same software with a different database in different locations or to serve different groups of people, although with the same data schema. For example, software development companies that perform on-premise installations on each client, can offer data analytics using Biuwer through a dynamic selection of the data source in a simple way.
This diagram shows that a group of people can be directed to one data source or another in a dynamic or static way, applying the data filters that apply in each case.
Embedded Analytics
When information needs to be shared externally, in this case to Biuwer, this use case is called Embedded Analytics. It is true that you can share any content externally to Biuwer simply with a URL, but to make it scalable, parameterizable and more secure, it is usually integrated using HTML and Javascript technologies, in web applications compatible with these standard web technologies.
To share any report or dashboard externally, Biuwer uses the so-called Authentication Tokens, symbolized in the following diagram by an icon of a key. Basically it is a text string that is used to uniquely identify a Biuwer user. That is why they are associated with each other and we have used the simile of "a key that is used to open a padlock."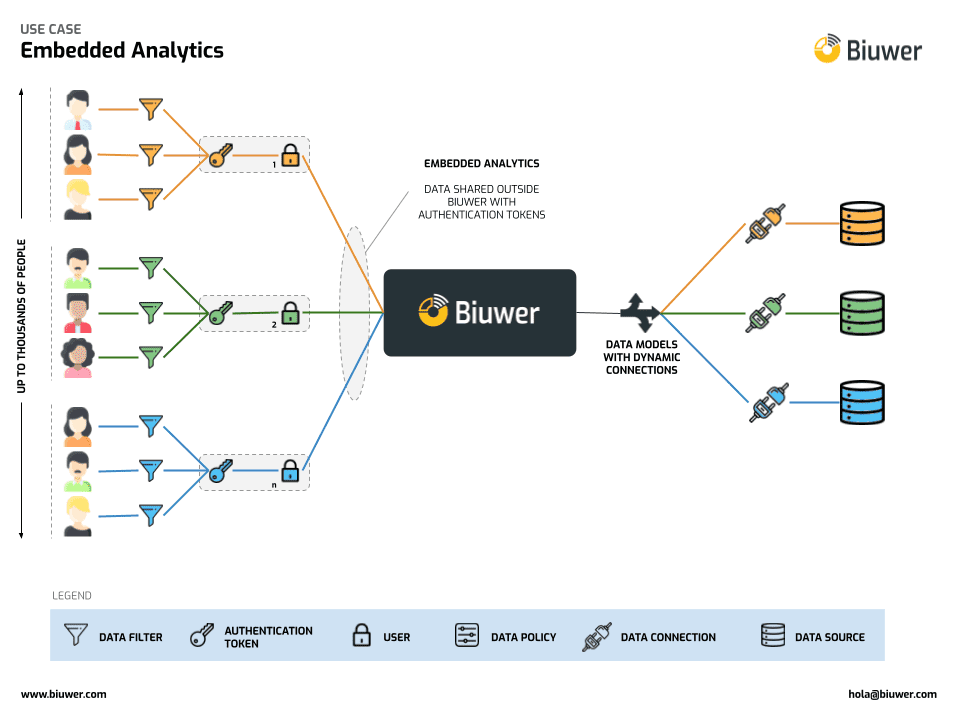 In this use case, it can be seen that several people can have filters applied and that they can even share the same Authentication Token and therefore share the same Biuwer user.
In Biuwer the filter system includes multiple possibilities, and one of them is to have filters whose value is specified by a URL parameter. This is often very useful when a shared Biuwer content is embedded in a web application and dynamic filtering can be applied to each person, to access different data. In these cases, these filters through parameters in the URL are transparent to the person, who is not aware that said filtering is being applied, but which serves to show specific information different from that of another person who shares the same Biuwer user.
Embedded Analytics and internal usage
Finally, both schemes can coexist and be used at the same time without any problem. The following diagram schematically shows an example of people accessing data through reports and dashboards embedded in web applications external to Biuwer, at the same time as other people, using a regular login access (email + password) are using Biuwer as an internal tool.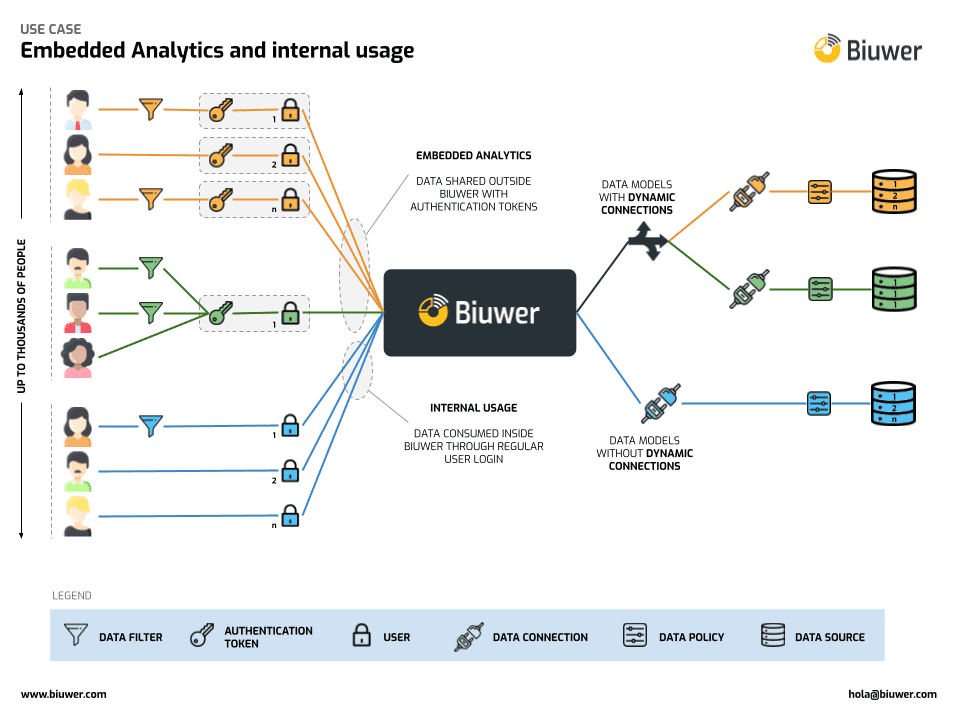 Variants have been included in this diagram that can help to understand the multiple use cases that can happen:
People using embedded analytics, sharing or not users, applying or not different data filters, both in a transparent way for the user and explicitly by the user when asking business questions on the screen.
People using Biuwer internally, applying data filters or not.
In both cases, depending on the users and the data models used, the data queries are directed to different data sources, on which the necessary Data Policies may or may not be applied.
Benefits of using Embedded Analytics in your company
Data management and security settings are centralized on a platform specifically designed for data analysis at scale. This has multiple advantages, such as giving people access in minutes, cutting access in seconds, applying the necessary data filters in a modular way, etc.
At the content level, changing any content can be reflected to hundreds or thousands of users in a matter of seconds. For example, if you need to add a chart to a dashboard, it is added in Biuwer in a matter of minutes and users will automatically see it on the screen, without the need to program any code or have to touch multiple points in your application.
Data can be shared at scale with ease. At scale means that hundreds and thousands of people can be reached with the same platform, accessing your data, in a safe and controlled way, at the end-to-end security and configuration level.
The costs per user are much lower since they are usually basic users, who only want to analyze data and not manage content.
In this other article we show the use of Embedded Analytics in Biuwer: Embedded Analytics - What it is and how it benefits my company
Do you have a use case similar to the ones we are talking about?
We like data management at scale and we are delighted that you tell us about your use case, it is sure to be very interesting.
Do you have a data management problem and don't know where to start? If you want us to discuss your specific needs, we can have an advisory session on Data Analytics totally free. Reach us here.
Do you want us to show you Biuwer and the integration possibilities for your use case? Book a demo now and our specialists will advise you on the best options to make your data profitable.
Do you want to try Biuwer now? Check out our plans and access your free 30-day trial. Our team will contact you to help you in the first steps.