Ecommerce Analytics 101
June 3, 2022
- Posted by
Nieves García
-
8 min
Do you have an online store and do not monetize your data? Don't know where to start to control your eCommerce KPIs? Here is an introductory guide to the most important aspects that you should take into account, so that you can know in detail the performance of your business, react in real time to changes and make optimal decisions on a daily basis by leaving intuition aside.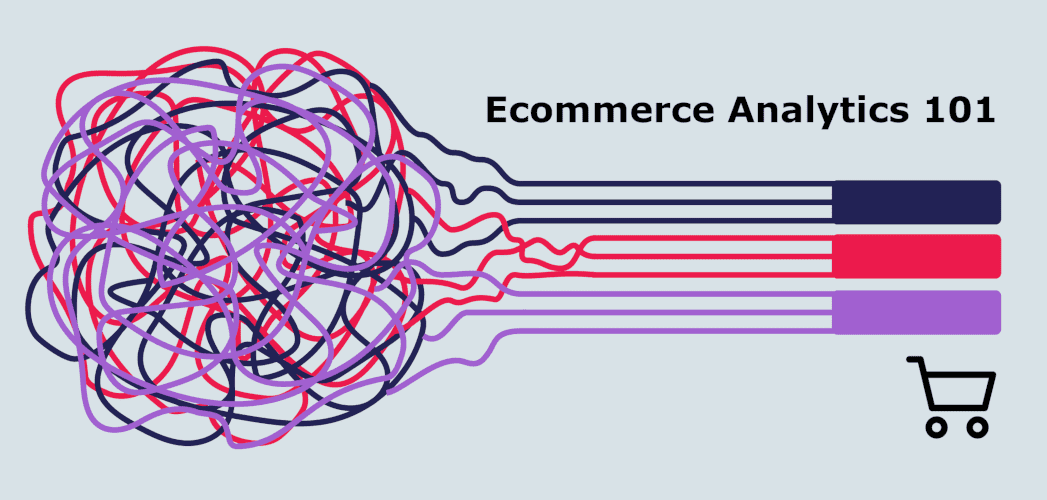 As you know, to be successful with eCommerce, it is not enough to create an online store and sell on the Internet. We know that customers do not arrive on their own, and when they already know us, it is difficult for them to interact with us regularly. Success comes after long-term work, where it is very important to know in depth everything that happens in the online store and all the tools that go with it, in order to make optimal and quick decisions.
For example, you must know who your customers are (features, segmentation), which are the most popular sections and products at the store, how often they visit and shop on the web, how much time they spend on it, etc. All of this must be measured in order to achieve objectives, which sums up in earning more money while investing as little time as possible.
Every day your online store generates a large amount of data and relevant information. Therefore, it is important to collect and analyze data, to know in real time how your eCommerce is performing, and therefore, to know if any decision taken (price changes, advertising investment, product changes, content changes, etc.) is working.
This is where Business Intelligence (BI) comes in, as a set of techniques and tools that serve to unify all your data and transform it into useful information, to use them strategically in the business: to obtain the target results, to improve the ROI of the online store, to achieve greater profitability.
What is data analytics in eCommerce?
This is the process of gathering and analyzing the information collected in the different tools of the online store to know how it works and what are the buying patterns.
These consumption patterns may include customer behavior in the online store, most visited sections, frequency of purchase, customer loyalty, etc. Through this analysis, you will gain an in-depth understanding of your target audience and the strengths and weaknesses of your eCommerce.
In other words, data analytics in eCommerce is the key to how to make smart decisions based on data for better results.
Importance of metrics for your eCommerce
The main objective of any online store is to make your business profitable. However, in order to know this, a thorough data analysis must be performed.
If we catalog the real importance to achieve your business objectives, we can divide all existing metrics and KPIs into two types:
Vanity metrics are those that feel good at first sight, but do not give us an orientation for the next steps. In other words, they are misleading and attractive variables for the wrong reasons that help to make a good impression on others, but they do not help to understand performance in a way that allows future strategies to be designed. Some examples are: total number of followers on Social Media Networks, total number of customers, total number of page views on the online store, total number of downloads of an ebook, etc.
Actionable metrics are those that can be used to make better business decisions. As their name suggests, they help us to make decisions and to achieve the company's objectives or growth. Some examples: bounce rate, unique users, customer acquisition cost (CAC), amount per order, number of items per order, etc.
In the specific case of customer acquisition cost (CAC), this metric will help you to obtain the cost of bringing each customer to your eCommerce and by extension the profitability of the marketing actions you carry out. It is calculated by dividing the total amount invested in sales and marketing during a period by the number of new customers acquired during the same period.
This is one of the most important KPIs in eCommerce and it is recommended to conduct an in-depth analysis for each specific case, because not all companies are the same. Having KPIs available, you will be able to learn many important details about the performance of your online store that may be unknown to you in one way or another: detailed characteristics of your target audience, how they found you, how much it costs to commercialise your product or service, results of marketing campaigns.
Customer analytics increases your eCommerce sales
An online store is able to collect a large amount of data about its customers. but in many cases this information is neither collected nor analyzed. Without a doubt, the first thing is to recognize the importance of collecting and having all your data, so that they can be used every day.
Without the slightest doubt, analysing your customers is the way to build a satisfactory customer experience (CX). Customer analytics is focused on collecting data that indicates what your customers are interacting with, how and for how long. We can even go beyond the mere results provided by tools such as Google Analytics, but other techniques that fall within the scope of machine learning would be necessary.
One of the most valuable techniques used to understand customers is RFM analysis (Recency, Frequency and Monetary Value). This is an analysis with which we can obtain the value carried by customers according to their degree of Recency, Frequency and Monetary amount. This technique is based on segmenting customers based on when their last purchase was made. By using RFM analysis with your customers you will be able to know them better and therefore, you will be able to carry out appropriate marketing actions for them by having perfectly differentiated customer segments or clusters.
What are the benefits of using metrics in my online store?
Performing a data analysis of your eCommerce will tell you if it is really working and where to increase actions to achieve higher profits.
Competitive advantage: the more you know about your online store data, the better decisions you can make. This gives you an advantage over competitors who don't use this data or don't use it correctly.

Identify customers by their behavior on the web, and therefore adapt the sections to them.

Better product and commercial decisions: you will be able to adapt your product or service to the needs of consumers, which is undoubtedly the key to success.

Analyze the online store in depth: content, images, products and really see if it is correct or if, on the contrary, some aspects should be modified.

Data-driven campaigns: having the data will allow you to plan and achieve better results in marketing campaigns (emails, ads, discounts, etc.).

Improve ROI: this point is very important because you will know the relationship between the investment and the profits generated. In this way, you will obtain the profitability of the strategy you carry out.

Competitors Analysis: you can know what actions your competitors are carrying out and which ones could be profitable for your business. Something very obvious is the analysis and tracking of product prices, in order to implement dynamic pricing in your online store.
Analytical tools for eCommerce
There are a multitude of free and paid tools to analyse your eCommerce data. There are specific ones to measure and analyse specific aspects (web traffic, content analysis (SEO), ad analysis (SEM), user behaviour in the online store (user tracking), product prices, competitor analysis, etc.), and there are also more comprehensive tools that allow you to connect and analyse all the data you need in one place.
For the first group, some well-known examples are: Google Analytics, Kissmetrics, Matomo, Hotjar, Woopra, Woorank, Minderest o Semrush, among many others.
Biuwer is a tool belonging to the second group, where you can analyze all the data from the different tools mentioned above (an others) the platform can be used jointly, without the need for technical knowledge. It is an automatic plug & play solution that helps you extract the full value of your data to grow your business.
What types of analysis can you do with your eCommerce?
As if it were the phases of a conversion funnel, it is advisable to measure and analyze your eCommerce data using metrics appropriate to the degree of maturity of your company.
These are some of the sections to focus on:
Audience: in this section you should analyze who your target audience is, their age, tastes, purchasing preferences, devices they use the most and other statistics to be able to adapt your actions.
Acquisition: you should measure which marketing channels are bringing visitors to the online store, which are most effective and which need to be improved.
Behavior: you should analyze the behavior of visitors to the online store, the most viewed pages, the time spent on the website, the most purchased products, the abandoned cart, etc.
Conversions: conversion rate is a metric that indicates the percentage of visitors to an eCommerce site who complete a certain action, ideally making a purchase. It is one of the essential metrics to evaluate the success of a business.
Advertisement: this data gives us the return on investment (ROI) that we have made on paid ads.
You should also consider actions to be taken for customer retention, getting repeat purchases (loyalty), getting good referrals (recommendations) to get new customers through positive word of mouth, etc.
In this way, you will be able to know if the strategy you are carrying out is the right one or if, on the contrary, you are not getting the results you expected.
Improve the performance of your online store by using Biuwer
Are you ready to increase your eCommerce sales? With Biuwer for Ecommerce we take care of unifying your data automatically in order to extract all its value and create the dashboards, reports and KPIs that best suit your needs, from the available templates, 100% customizable. You will be able to receive periodic reports with high-value insights on a regular basis and share the data with your team with total security. If you want to know more you can contact us here.