September 12, 2023
May 2021
New functionalities:
Collections: Did you miss tabs at Biuwer? Collections are a new type of content that allows you to use pages and cards in new and different ways. Initially, the horizontal tabs in the upper left part have been included as a default navigation method. In this way, collections become part of the internal and external sharable content resources in Biuwer.
Shared Resource Management: A Shared Resources Panel is included in the administration area that shows all the resources (Pages, Cards or Collections) that are being shared, with direct access to their configuration. Visual elements are also included in the content listings to show users what resources are being shared.
Data center - Duplicate a Connection: Now you can duplicate data connections with a click, to adjust their parameters more easily.
Query engine - Show records without value: A typical use case can be to always display dates or other dimensions where no facts have occurred. This makes sense with OUTER JOINS applied to the query and with a filter configuration in which two or more entities are included, to show the records that have no value in all cases.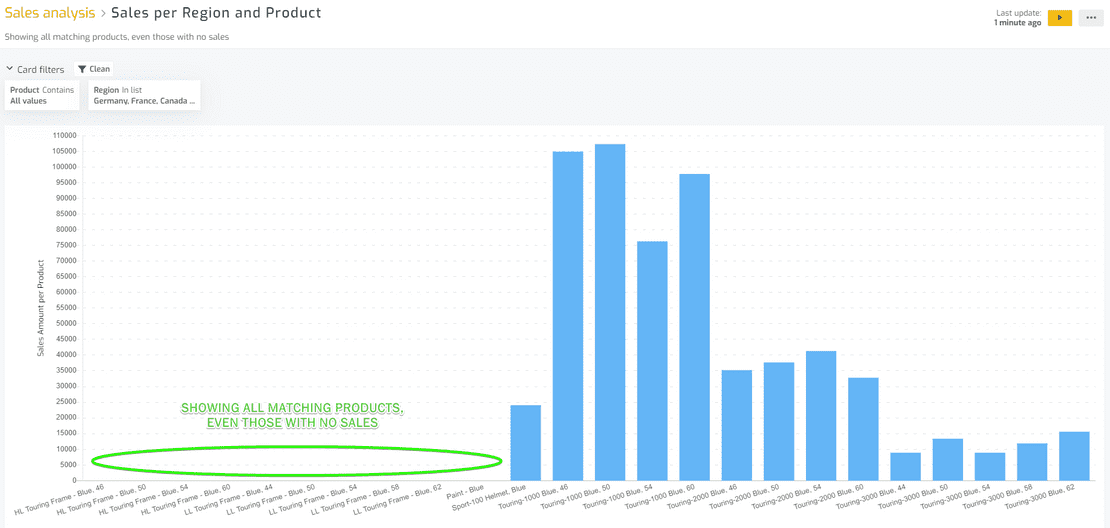 Data Card Editor - Query Code: Users can now see the code that Biuwer's query engine runs on data sources, including SQL and MongoDB. This is useful to validate that the Data Models are correctly defined, since the query that each card performs can be displayed including all the configured options and any filter applied to it (card filters, page filters, collection filters).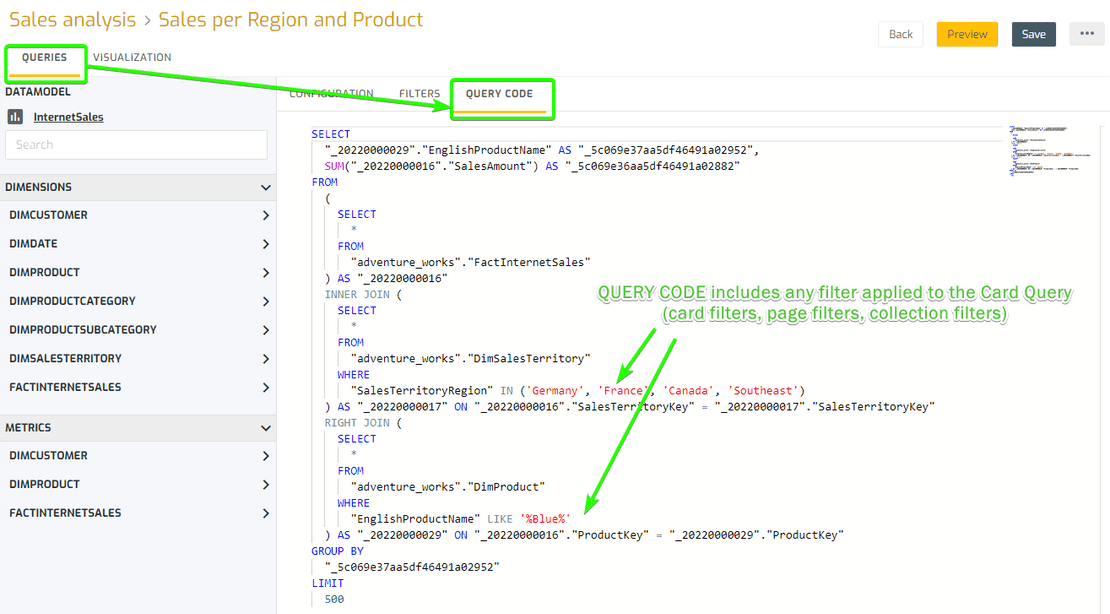 Improvements:
COUNT DISTINCT operation for MongoDB: from now on, users will be able to use this operator to count the distinct elements within a dataset physically stored in MongoDB.
The role and permissions caching system has been improved, so that an update in the permissions can be applied immediately to the affected users. This is especially important when using Biuwer to give different users access to data in different ways.
New possibilities of using Embedded Analytics, the version of Biuwer shared externally directly or in third applications, by allowing the use of the same Authentication Token simultaneously by several people. This enables information to be delivered at scale using Biuwer's data access security system.
Bug fixes:
Reverse Engineering for MariaDB: we've fixed an issue that made this type of database not allow reverse engineering.
Query engine for MongoDB: some cases not covered initially have been added to allow field filters on MongoDB collections to allow all included expressions.
The card editor now synchronizes in all cases the levels of the date fields, between the query tab and the display tab.
Visual improvements have been included so that the content is displayed correctly when the upper Notifications Area is active.
Minor fixes.